RISK AND INSURANCE SERVICES
With decades of industry expertise and experience, Marsh's Cyber Practice helps clients assess, manage, and respond to cyber threats and events. In addition to a range of advisory and transactional services, Marsh offers best-in-class analytical and coverage solutions, including Cyber CAT 2.0 -- comprehensive coverage for liability and direct loss associated with data breach and technology failure.
Marsh

At Marsh, you'll leverage our advanced data and analytics capabilities to help clients understand and better manage the risks they face. We represent the buyers of insurance, working with clients in every industry to help them identify and mitigate risks to their people, assets and investments, enabling them to pursue innovation and create value.

The talented people at Marsh provide consulting expertise in the following areas:

RISK MANAGMENT

DATA ANALYTICS-DRIVEN SOLUTIONS

BROKERAGE AND CLAIMS ADVOCACY

Guy Carpenter

At Guy Carpenter, you'll join an elite firm developing innovative strategies to transform complex risks into opportunities for our clients. As a leading reinsurance broker, Guy Carpenter finds investors around the world to share the risks that no one entity can bear alone. Our innovative technology-enabled solutions are revolutionizing the way insurers assess their risks, capital needs and reinsurance pricing.

The talented people at Guy Carpenter provide consulting expertise in the following areas:

MANAGING RISK

CAPITAL SOLUTIONS

STRATEGIC ADVISORY
Meet our Risk and Insurance Services Colleagues
Danielle

Insurance Specialist

Marsh

Washington D.C.

"What surprised me most about Marsh was how people had been in the industry – and at Marsh – for many years. It confirmed that Marsh really does provide an environment of opportunity that motivates employees to build and maintain robust careers"

Gaurav

Client Representative

Marsh

Toronto

"From the beginning of my career at Marsh, I had the opportunity to work on high-level deals with Fortune 500 companies and senior-level people. It's unique. There aren't many industries where you can do that and where you get the chance to progress in your career as fast as you can in insurance."

Svetlana

Business Development Manager

Marsh

Russian Federation

"I chose to pursue a career in insurance because it's the most interesting, dynamic, and comprehensive sector in the financial services industry. The people are great too – particularly at Marsh. I appreciate their open-mindedness, determination to continuously seek new opportunities, and their flexibility."

Andrew

Claims Advocate

Marsh

London

"When I first joined Marsh, I was shocked to discover the range of risks covered in just the marine market alone. Coupled with the fact that I work with intelligent, approachable professionals who are fun to deal with, makes this a career I'm not likely to leave behind any time soon."

Amrita

Analytics

Guy Carpenter

London

"I really love learning on the job, and changing my perspective as I progress. Every project I start out focusing on the data, move onto analysis and decision, and then communicate my findings with brokers and clients. At every stage, I'm learning, building new skills, and gaining knowledge."

Rebecca

Treaty Broker

Guy Carpenter

Sydney

"I chose a career in reinsurance because it's exciting. Technological disruptions are constantly changing the field and I'm constantly encouraged to think outside the box. Even at a relatively junior level, my managers motivate me to identify opportunities and take action. It's enormously energizing."
Client success, on a truly global scale
At Marsh & McLennan Companies, we operate on a global scale, across a huge number of specialist areas. Because of that, we look to our people to bring a deep wealth of real-world knowledge and expertise to every project. And that's something that benefits clients and employees alike.

Read Christina's Story
Christina Harris Rabinowitz – Her journey so far
How do you add value for a client? Christina does it by bringing her experience to the table. When she was a consultant at Oliver Wyman, a long-term client based in the Middle East announced an acquisition and expansion into West Africa. The region was new territory for the client, but not for Christina and her team. They sprang into action, collating best practices and learnings from previous projects in the region to apply to the new situation. This enabled Christina and her team to create a successful roadmap for managing the new business, setting the company up for long-term progress and success.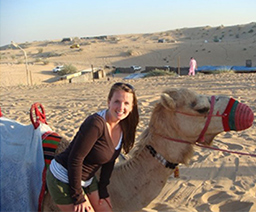 Colleague Career Path
Christina Harris Rabinowitz - Georgia Goes Global
Graduated from the University of Georgia Terry College of Business

Worked in Marketing and Operations at Chick-fil-A

Became a Management Consultant at Oliver Wyman

Built upon experience in new role as Vice President of Human Capital Strategy at Marsh

Promoted to Senior Vice President of Sales and Marketing at Marsh